M. Arsik Kurniawan S., S.Si., M.Sc.
Jabatan Fungsional:
Asisten Ahli / Pangkat/Golongan: III/B
NIP/NIK/identitas lain:
156121308
NIDN 0524028502
Tempat dan Tanggal Lahir:
Jakarta, 24 Februari 1985
Nomor Telepon / HP 085712445352
Alamat Kantor:
Universitas Islam Indonesia
Gedung Prof. Zanzawi Soejeti, Prodi Kimia FMIPA Univesitas Islam Indonesia
Jl. Kaliurang 14,5 Yogyakarta
Nomor Telepon/Faks 0274 –895920
Nomor Telepon/Faks 0274 – 896439
Riwayat Pendidikan:
S1 Universitas Gadjah Mada Bidang Kimia
S2 Universitas Gadjah Mada Bidang Kimia Fisik
Mata Kuliah yang Diampu:
1. Kimia Fisika I
2. Kimia Fisika II
3. Matematika untuk Kimia
4. Komputasi Kimia
5. Kimia Polimer
6. Kimia Aditif
7. Praktikum Kimia Fisika
Bidang Keahlian:
Kimia Fisika dan Kimia Komputasi.
Topik Riset
Synthesis and modeling derivative of materials carbon graphite and alginate as based materials for the development of energy studies and agriculture.
Background 1:
The progress of science in the field of nanotechnology is growing rapidly. Graphite is one of the allotropic forms (CNT, fulleren, diamond) of two-dimensional planar (2D) carbon-based carbon material, having a honeycomb-like visual with a carbon-carbon length of 1.42 Å (Slonczewski and Weiss, 1958).
Graphite is composed of sheets of graphane that have electrical, thermal and mechanical properties. There have been many studies examining the semiconductor properties of graphite, for example graphite as a solar cell semiconductor (Rahman et al., 2015), graphite as a photocatalyst semiconductor (Xiang et al., 2012), and graphs as dielectric magnetic semiconductor materials (Tongay, 2010).
Additionally graphite is also used as a metal adsorbent (Uppal et al., 2016). This makes the basis for developing and creating new technologies in graphite material sources and their derivatives.
Through modeling obtain conductor structure and electronic properties of graphene, the approach to the development of these materials can be predicted. Derivative synthesis will be developed with a series of test activities.
Background 2:
Plants require essential elements from the soil. The elements are divided into two types, namely elements of macro and micro elements. The macro element is the required element of the plant in relatively large quantities e.g. C (carbon), H (hydrogen), O (oxygen), N (nitrogen), P (phosphorus), K (potassium), Ca (calcium), Mg (magnesium), and S (sulfur). While the micro element is the element required by the plant in relatively small amounts, for example Zn (zinc), Fe (iron), Mn (manganese), Cu (copper), B (boron), Mo (molybdenum), Cl (chlorine) ) (Imran and Gurmani, 2011). Various elements are cooperating with each other in meeting the needs of the system in plants.
Alginate is a natural polyanion molecule capable of binding cations and can be developed as a natural adsorbent (Rathinam et al., 2006). Alginate can be used as a fertilizer carrier medium (Kay, 2004). The degradable alginate properties are able to control the rate of release of nutrients that are very beneficial to the plant.
The study of cation element interaction modeling on alginate has been done to predict the possibility of a complex that is formed, so it can be predicted its activity and its development.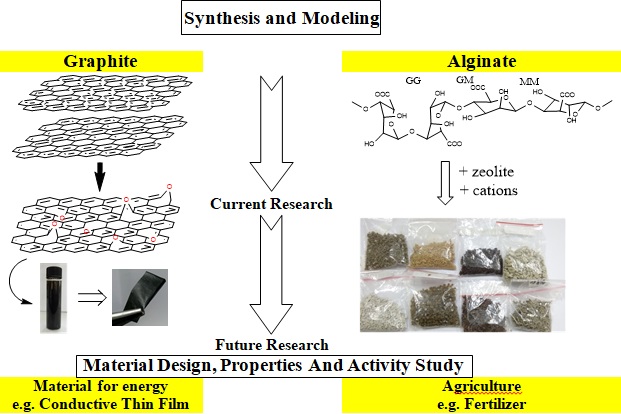 Pengalaman Riset:
2017
Sintesis Dan Karakterisasi Alginat/Zeolit/Fe-Zn Sebagai Material Pupuk Lepas Lambat DPPM-UII
2016
Sintesis Dan Karakterisasi Elektroda Karbon/Alginat Untuk Penanggulangan Limbah Warna Batik DPPM-UII
2015
Sintesis Komposit Alginat/Zeolit/Fe Sebagai Material Pelepas Besi(III) Dana Riset UGM
Publikasi Ilmiah
Muhammad Arsyik Kurniawan, Indah R. Wahyuningrum, Dela Anggraini, 2018, Sintesis dan Karakterisasi Komposit Alginat/Zeolit/Fe-Zn Sebagai Salah Satu Material Pupuk Penyimpan Fe dan Zn, Indonesian Journal of Chemical Research, Vol 4, No. 1, 31-37.
Febi Indah Fajarwati, Muhammad Arsyik Kurniawan, Mayla Nur Fatima, Rosani Fikrina, 2018, Penghilangan Zat Warna menggunakan Kompleks Polielektrolit Kitosan-Alginat, Journal of Pharmaceutical Science and Clinical Research, Vol. 3 No. 1, 36-42.
Saprizal Hadisaputra, Saprini Hamdiani, Muhammad Arsyik Kurniawan, and Nuryono, 2017, Influence Of Macrocyclic Ring Size On The Corrosion Inhibition Efficiency Of Dibenzo Crown Ether, Indones. J. Chem., 2017, 17 (3), 431 – 438.
M. Arsyik Kurniawan, Rohini Pujiarti, 2017, Pengaruh Penambahan Na-Alginat Dalam Proses Eksfoliasi Grafit Melalui Metode Pencampuran, Jurnal Pijar MIPA, Vol. 12 No. 1, 1-4.
M. Arsyik Kurniawan, Sabirin Matjeh, Sugeng Triono, 2017, Conversion Eugenol To Methyleugenol : Computational Study and Experiment, AIP Conference Proceedings, ISBN: 978-0-7354-1491-4, 1823
M. Arsyik Kurniawan, Muhaimin, Rohini Pujiarti, 2016, Studi Stabilitas Komposit Karbon/Na-Alginat Sebagai Material Elektroda Sel Elektrokimia, Seminar Nasional Kimia, Kimia Unram, Lombok, ISBN: 978-979-89119-7-2.
M. Arsyik Kurniawan, 2015, The Utilization Density Functional Theory in Structure Determination And Hydrogen Storage Properties of Ca(BH4)2∙2NH3 Compounds, The First International Conference on Statistical Methods in Engineering, Science, Economy, and Education (SESEE-2015), ISBN: 978-602-99849-2-7.
M. Arsyik Kurniawan, Studi Komputasi Metode Ab Initio DFT dalam Kajian Struktur Dan Sifat Elektronik Senyawa Kalsium Borohidrid-diamonia Sebagai Senyawa Penyimpan Hidrogen, Eksakta, Jurnal Ilmu-ilmu MIPA, Vol. 15 No. 1-2, 23-37.
HaKI/Hak Kekayaan Intelektual (Buku/Paten)
Keynote Speakers
Menjadi pembicara/instruktur dalam berbagai forum ilmiah nasional maupun internasional, baik berupa Seminar, Simposium, Pelatihan, Workshop dan lain sebagainya.
Keanggotaan Profesional
1. Anggota Himpunan Kimia Indonesia (HKI)
2. Member of Royal Society of Chemistry (RSC)
Sertifikasi dan Penghargaan